Parts & Inventory Management
Increase Efficiency and Profitability
HBS Systems NetView ECO Parts & Inventory Management software increases equipment dealerships parts sales, improves customer service, and optimizes operational efficiency, improving the profitability of your parts department.
Critical data is presented in real-time through a customizable dashboard, automated reports, graphs, and detailed analysis. The view into your parts operations will empower you to make important management decisions required to identify and eliminate the inefficiencies that have kept you from maximizing profits in the past.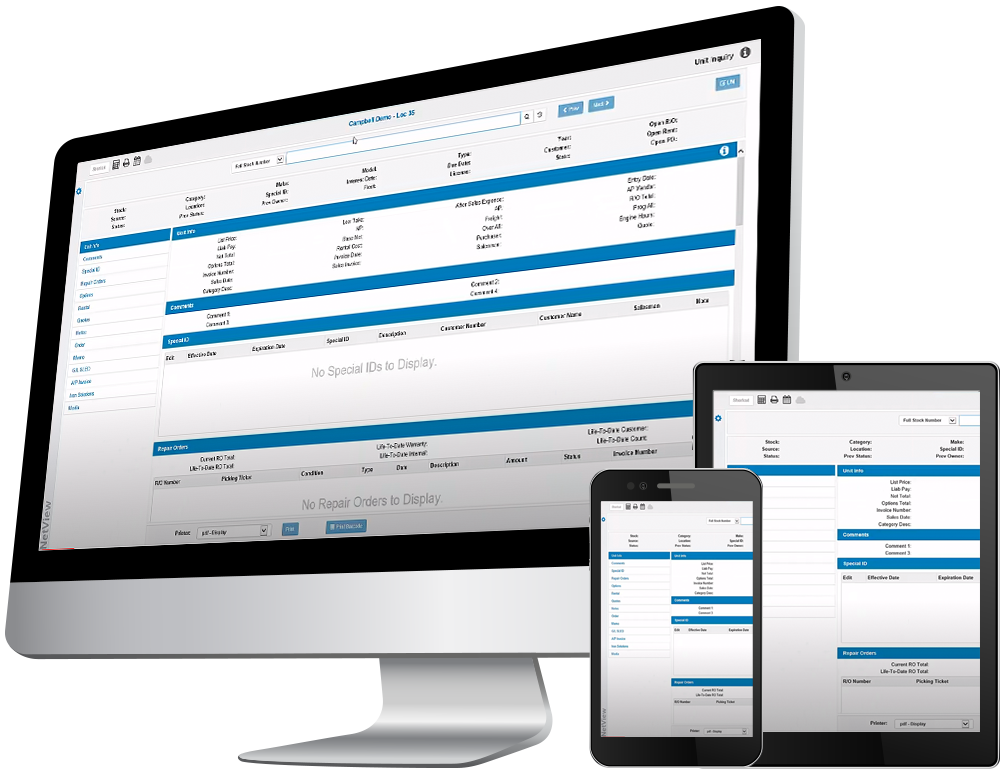 Powerful Application Features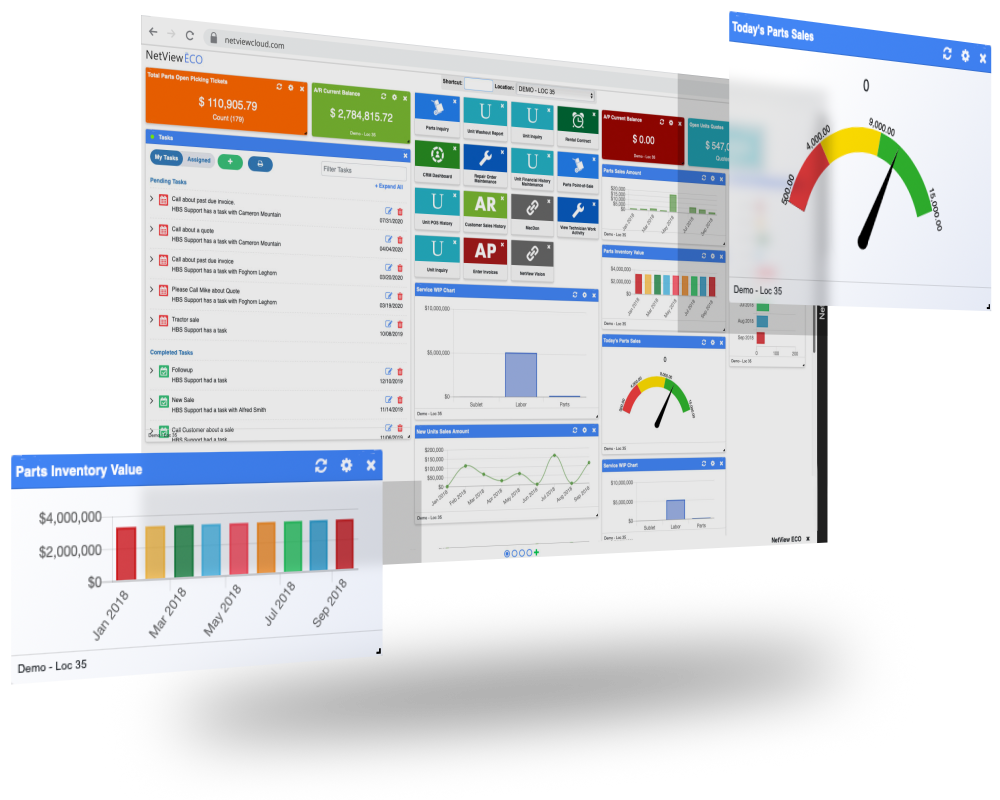 Nine years of online parts history including parts sales, lost sales, and bin trips.
Support for wireless mobile inventory gun bin counts – enables real-time count updates.
Automatic handling of core returns and environmental charges and fees.
Matrix pricing provides up to 99 different factoring levels by price range per source.
Create customer parts orders from within POS and collect full or partial prepayment if desired.
Allows duplicate part numbers across multiple vendors and sources.
Helpful pop-up lists/selection boxes to assist in making the correct selection.
Sell stock, non-stock, new, used, and rebuilt parts.
Mobile Parts Truck Inventory capability.
Comprehensive seasonal ordering capability supporting dealer-defined seasonal periods.
Complete order and return history by part number with quantities and dates.
Create and save parts quotes without relieving inventory.
Import parts lists from most OEM electronic parts catalogs.
Multi-location stock order creation with suggested transfers.
Create suggested orders with promo, group, or application codes.
Unlimited customer POS history online. Retrieve, display, print, or email invoice images as .PDF documents.
Identification of allocated quantities on open picking tickets and repair orders.
Three bin locations per part number.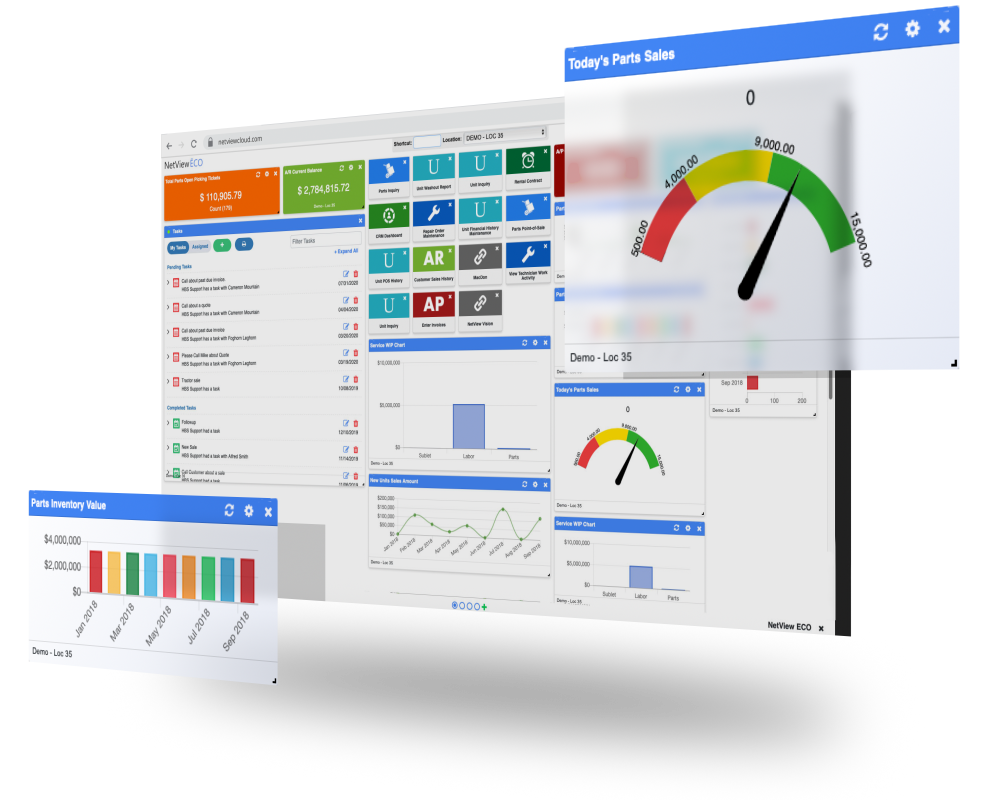 Application Highlights
Fully-Automated, Unattended, Nightly Manufacturer Price File Updates
HBS Systems prides itself on providing first-to-market technology and has offered completely automated manufacturer nightly price file updates since 2005. Don't be confused by similar claims from other dealership management systems. With HBS, you don't have to apply or process a downloaded file – your system does it automatically so you'll always sell parts at the right price.
Easy Navigation To Information Without Leaving the Invoice
One of the most popular features of our system is the ability to access information without leaving the POS invoice – even for a different customer. You can access a detailed listing of customer equipment, pull up A/R balance and payment history, view sales history, access COIN for part number exchanges, and more. Our system was designed by dealership parts people, so it works the way you do.
Attach Photos, Videos, Invoices, Diagrams, or Handwritten Notes to Any Part Number
One of the most costly aspects of hiring new personnel is building up the knowledge base it takes to be an effective parts counter salesperson. In addition to extended descriptions and two comment lines for each parts master record, HBS eDocs allows reference material to be attached at the part number level. These can be copies of handwritten notes, assembly diagrams, photos, videos, manufacturer bulletins, or any other file you want to make available to system users. Use this powerful feature to share information that will make your entire team more productive.
Application Highlights
Very Simple Way to Track Lost Sales
Tracking lost sales is fast and easy at the point of sale. No need to keep handwritten lists or go through menus to log this valuable information. The system stores 48 months of detailed and 9 years of annual lost sales history for each part number. Lost sales information can be considered when creating daily, weekly, monthly, or seasonal stock orders.
Powerful & Accurate Suggested Stock Order System
HBS is well known among parts personnel for having the best ordering system in the industry. By using dealer-defined criteria, the system can be tailored to support your specific parts management goals. With up to four seasonal indicators per part, the system prevents overstocking of parts in the offseason. Best of all, the system automatically upgrades and downgrades stock classes to prevent obsolete inventory.
Easy Analysis of Parts Trend Information with Full-Color Graphs and Charts
Imagine the power of being able to view parts information on-demand with a fully-integrated graphical reporting tool. With HBS, it's a reality. GraphXPress transforms stacks of reports into meaningful pictures of your parts sales, stock levels, profits, and more in a matter of seconds. There is no upload/ download or import/export of information required. It's built right into your system. Gain a whole new perspective on your parts operations with this powerful feature.
Solutions Tailored by Role

CEOs & Presidents
Streamline all divisions of your equipment dealership.  NetView Active Desktop's customized dashboard provides real-time information for all departments, allowing you to make data-driven decisions to maximize profitability.

CFOs & Finance
Automate financials for all departments of your dealership. Our DMS software has powerful reporting tools that provide critical financial data allowing you to analyze information in your customized NetView Active Desktop dashboard.

Sales Managers
Empower your sales team to increase sales and improve customer service. NetView Active Desktop's equipment dealer management software's customized dashboard provides sales reports to manage opportunities, communication, and schedules.

Parts Managers
Automate complex processes to increase efficiency, letting you easily manage parts sales, order fulfillment, price files, purchase, returns, and more. NetView Active Desktop's customized dashboard provides real-time data to ensure on-time delivery increasing customer satisfaction and profitability.
Service & Warranty Managers
Streamline your service department and maximize profitability. Organize schedules, manage warranty claims, through automated OEM integrations, track the status of every job, unit, and technician. NetView Active Desktop's customized dashboard provides real-time data to streamline your entire department. 

Rental Managers
Maximize your fleet to increase customer satisfaction and dealership profitability. Powerful features streamline the complex rental process. NetView Rental gives your team access to real-time inventory availability and the ability to click to call, text, or email customers from anywhere on any device.  
Equipment Dealership Management Software
Customized for Your Industry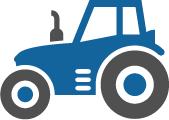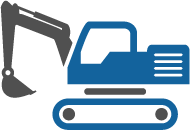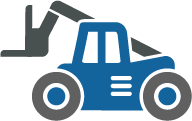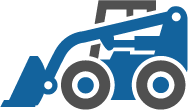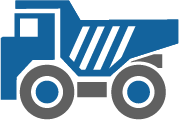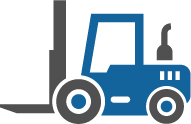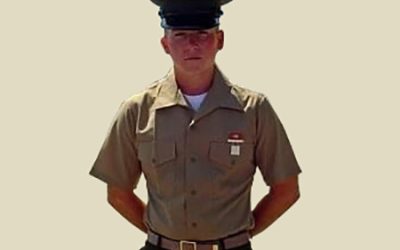 Welcome to our NetView ECO TeamView series, where we will highlight award-winning employees that make up HBS System's team members to learn more about them and their work and to pick their brains on a variety of topics. Our featured guest is Mathew Denton, Manager of...