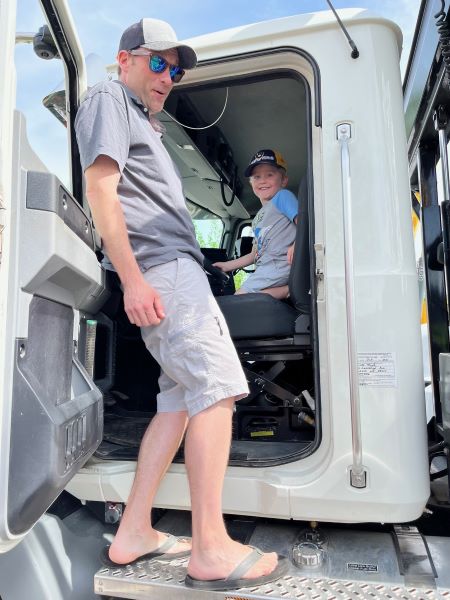 Welcome to our NetView ECO TeamView series, where we will highlight award-winning employees that make up HBS System's team members to learn more about them and their work and to pick their brains on a variety of topics.
Our featured guest is Chris Mueller, Manager of Client Services at HBS Systems.
In this HBS Systems exclusive, we sat down with the former HBS Systems customer who sold his share of his family-owned rental business and decided he loved working with our team at HBS Systems so much, why not become an employee?  What a pleasure getting to know more about what makes this rental guru and customer-centric man excel in everything he does in life! We got to learn about his background, life in Wisconsin, his love of machinery, how he used HBS Systems as a customer, and his passion for sharing his knowledge and teaching shortcuts he's learned in owning an equipment rental dealership to increase efficiency and profitability for our customers.
HBS: Tell us about where you grew up and how that experience set you on a path to set you apart from others setting you on a path of excellence!  No pressure.
CM: I grew up in Madison, WI.  With its many lakes, parks and outdoor activities it shaped my love for the outdoors (as long as you can get through the winter months!).
I started early in the dealership life.  My father and a business partner purchased an equipment supply and rental company in the 80's and grew it to a 3 store operation by the mid 90's.  My first jobs growing up were cleaning the shop, receiving inventory and helping on deliveries.  I learned the importance of customer service and working together as a team.  I also recognized many of the unique demands running an equipment dealership presents.  I was able to use those experiences as well as working for a large insurance company for many years after college to rejoin the dealership community as an owner, until I recently sold my shares after 16 years. 
HBS: You started using HBS Systems as a customer in February of 2017 and became an employee in December of 2022. Why is the future of this company more exciting than it's been in years?
CM: Innovation.  Since our time coming onboard as a customer to my time working for HBS Systems, the software has evolved significantly.  The team at HBS Systems truly listens to the feedback from its clients and uses that for enhancements, new features as well as partnerships to streamline operations and enhance workflows for their clients. 
HBS: Walk us through a typical day in the life of Chris Mueller
CM:  Having several projects going on at a time, my days start with organization.  A review of my to do list for the week, open cases in progress and upcoming meetings for the day.  Then it's communicating directly with clients from training and utilization of the software to resolving specific client issues and following up on satisfaction initiatives.  I also get to assist with content creation for our marketing team.
HBS: What's the best part about working at HBS Systems?
CM: The people!  From our entire staff, management and ownership at HBS the people centric culture and being able to grow relationships with such diverse backgrounds within the industry has been a wonderful experience. 
Also, I love the various customer bases that we serve and getting to engage with our clients on a daily basis has been extremely rewarding.  From large multi-location dealerships to up and coming businesses working with our end users is always a great experience.
HBS: What is next on your list of personal and professional goals?

CM: Personally, my wife would love me to finish up the many projects started but yet to be completed as we've been remodeling our older home.
Professionally, to use my past dealership experience and knowledge of the software to continue to forge new relationships with our growing list of clients and help be an asset to their experience with our software and company.
HBS: Both those goals sound awesome. Let's shift gears for a second. Give us your 5 favorite pieces of equipment and why you like them.

CM: Skid mounted demo hammer / breaker – Always one of the greatest parts of demo, breaking up large amounts of concrete.
Tow behind boom lifts – The quickest way to access great heights without the need for ladders and scaffolding.
Ride on Power Trowels – We sold and serviced many of these and it's amazing to see the skill and art of how they trowel finish large concrete slabs.
Power Buggies – Who wants to push a wheelbarrow when you can have motorized / stand on ones that do all the work.
Mini Skid Steer – Ability to access tight spaces in the backyard, easy controls and light weights make them a great tool to speed up projects.
HBS:  5 places you want to vacation in the future.
CM: New York City, France, Switzerland, Disney World, Yellow Stone National Park
HBS: We hear your favorite hobby is golf? What do you like about it so much?
CM: My father and I use to spend a lot of time on the weekends playing, and I enjoy its constant challenges.
HBS: What inspired your passion for serving others in the equipment rental business? How have you applied that to your role at HBS Systems?
CM:  Gaining the knowledge and experience to provide recommendations to end users, whether its equipment related or software related, is very rewarding.  Knowing that their outcomes depend on such industry knowledge to help shape their success and enhance their efficiency is both professionally fulfilling and personally gratifying.
HBS: What is one item you always have in your refrigerator at all times?
CM: Lemon Lime Sparkling water
HBS: Beach or mountains for vacation and why?
CM: I vote Mountains, but ultimately will get outvoted by the rest and the family and we'll end up at the beach.
HBS: Anything else you want to share we've yet to ask about you?
CM:  An old quote I like "Enjoy the little things in life, as one day you may look back and they were the big things."
We hope you enjoyed getting to know Chris Muller a little more in our NetView ECO TeamView series. If you'd like to become part of the team or learn more about how HBS Systems can Advance Your Dealership, give our team a call at 800-376-6376 or send an email to sales@hbssystems.com.