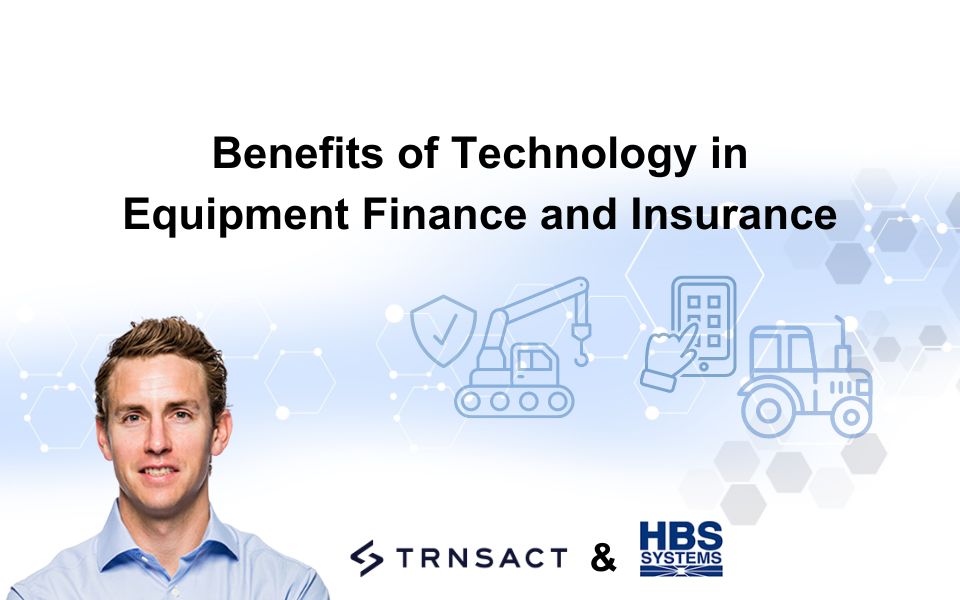 The benefits of incorporating inventory management software for equipment dealers are well established. The right dealership management software streamlines inventory processes, improves productivity, and helps equipment industry leaders gain valuable insights for better decision-making. In 2023, the majority of equipment dealers and equipment providers have realized those benefits by adopting digital transformation for all aspects of their business – from inventory to service and repair.
While it's true that some dealers are ahead of the curve, many equipment dealerships in the US are still relying on analog lending application processes using unsecure PDFs, multiple lender portals, and limited lending options. On the other hand, tech-friendly dealers who embed equipment F&I management software into their sales process see significant advatnages. 
In this article, Beckham Thomas, CEO and Co-Founder of Trnsact will explore how taking equipment F&I digital can create opportunities for revenue growth, improved customer satisfaction, and faster deal closures. As you'll soon learn, the adoption of technology is crucial for dealers, especially when it comes to offering in-house finance and insurance options. 
How Equipment Finance Teams Can Deploy Technology to Win
Explore 4 ways technology enhances best practices in equipment finance and insurance while elevating the equipment buying experience for commercial customers.
Online Credit Applications
With the help of technology, the lengthy application process, time-consuming approval times, and multiple applications become a thing of the past. It's like having an easy button for F&I.
Speed Up the Sales Process with Quick Pre-qualifications
Utilizing technology increases sales velocity by streamlining processes and enabling quick pre-qualification. When F&I operations are not handled in-house or lack technological support, deal completion may take days or even risk being lost altogether. On the other hand, instant pre-qualifications give salespeople more time to focus their efforts on what they excel at – selling.
Expand Lending Options for All Customers, Not Just a Select Few
Dealers who adopt modern finance technology are able to offer customers more lender options. This not only allows them to find a perfect fit for their unique needs but also speeds up the sales process, which gets them back to work faster. Even businesses with new or poor credit can complete a single application, get instant pre-qualification and enjoy their overall equipment buying experience.
Make Data Compliance Efficient and Less Complicated
Last but not least, technology plays a vital role in reducing liability concerns for dealerships in the modern digital age. Mishandled customer information can pose significant legal and financial risks for equipment dealers. Moving away from PDF applications to technology with strong encryption helps to ensure data safety and reduces regulatory compliance concerns. 
For commercial equipment dealers looking to grow, optimizing technology to work for their business is imperative, particularly in relation to providing in-house finance and insurance solutions. This is the area where investments in new software can pay for themselves quickly! Through the utilization of equipment finance technology, dealers can capitalize on opportunities for increased profitability, sales volumes, and customer satisfaction.
To find out more about how your equipment dealership can benefit from embracing emerging technology in equipment finance and insurance, contact our experienced team at sales@hbssystems.com or call 800-376-6376 to discuss the recent partnership with Trsnact.