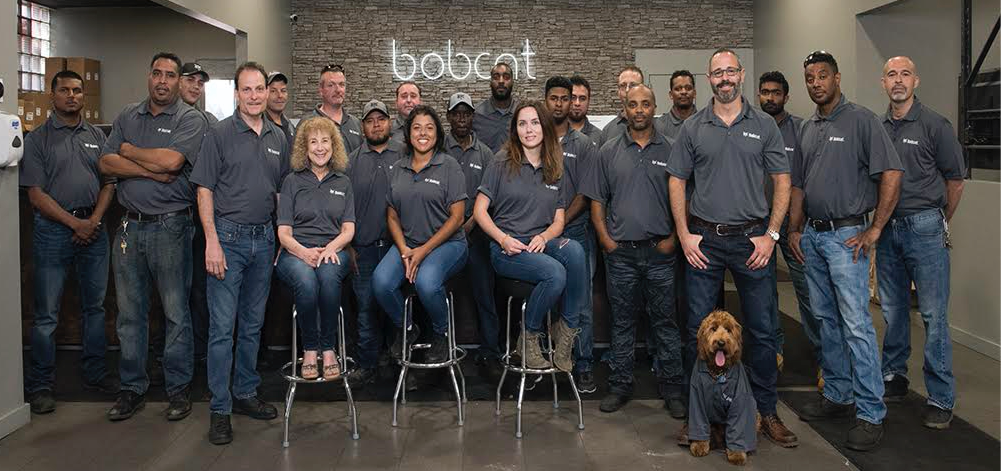 We had the opportunity to talk with Sage Prigozen, CFO, of Bobcat of New York to discuss his journey looking for a construction dealer management software partner.  We're pleased that he selected HBS Systems for the life of their business and humbled to share his insight.
Why more Bobcat dealers are choosing HBS Systems as their construction dealer management software partner
Can you give a brief description of your company?
For over 80 years, Bobcat of New York has served the compact construction equipment needs of the New York metropolitan area from their multi-location dealerships. They offer sales, service repair, and rentals to customers and access to the complete line of Bobcat equipment, including Skid steers, Excavators, Track Loaders, Utility Vehicles, Telehandlers, and many unique attachments. In addition to Bobcat products, they also sell Pro-Tech Snow Pushers and Blue Diamond attachments. The New York City (Queens) and Long Island locations are authorized, full-service dealerships providing customers with knowledgeable salespeople and factory-trained technicians. Both locations are fully stocked with brand-new Bobcat machines and a large selection of used Bobcat equipment. Additionally, their certified technicians are experts at maintaining and servicing machines on the road or at their service centers. Bobcat of New York's team has built successful long-term relationships with customers by ensuring each location has a fully stocked parts department and getting parts to customers' needs when they need them.
How did you first hear about HBS Systems construction dealer management software? 
I've spent the last 20 years looking for a construction dealer management software solution that would warrant a move from our prior DMS. I was introduced to HBS Systems software through an industry contact. Once I saw a demo, I really liked the process flow and was so impressed with the system.  That was the first reason we selected HBS Systems as our construction dealer management software partner.
What challenges/problems were you experiencing that necessitated a change? 
For 30+ years we were on a Unix green screen, starting with a mainframe and then a move to a hosted environment about 15 years ago. This necessitated VPNs to the cloud which were always failing. Although the system was very stable when the VPNs were up, we were stuck in an operating environment from the 80s. Very little to no updates had taken place over the years and all of us were struggling to make current processes work with a system that's been static for years. While advancements were being made with connectivity to our supplier, Bobcat, we were unable to take part in these improvements. The prior system which operated by function key and numeric keystrokes was very difficult to teach to new employees and often led to an overall atmosphere of the company being stuck in the past. While the parts and sales system was pretty straightforward, the rental and service modules required a degree from Stanford to figure out. Because we had no CRM, service scheduler, or financial dashboards we had to employ no less than four other software suites to meet our needs.
What were you looking for in a construction dealer management software partner?
A proper construction dealer management software should be an all-in-one solution. Maintaining multiple databases which do not communicate with each other is very time-consuming and prone to mistakes. First and foremost, we needed a system that would allow us to consolidate our multiple databases and software suites into one system. Connectivity was also a key issue. We no longer wanted to be tied to VPNs and thin clients loaded on each computer to access a system. We needed a construction dealer management software that was web accessible and without the need for additional software. The HBS Systems construction dealer management software solution offers a clean, customizable web interface and we have had 100% uptime with HBS Systems since we onboarded in January. In addition to connectivity, we put ease of use as a high priority when selecting HBS Systems. This was partially due to our current employees being resistant to change as well as continued employee turnover. We needed a construction dealer management software system that was easy to train employees on, so they became invested in the system and not frustrated. There were also two key modules we looked for in the construction dealer management software. We needed an easy-to-use but robust rental module and a parts inventory management system.
What made HBS Systems construction dealer management software stand out over the other products you researched?
I've looked at and/or demoed over 15 of the leading construction dealer management software's on the market. HBS Systems was the only provider that checked all the boxes. It's truly remarkable software with an incredible team behind them. Most other products did a good job at one of two aspects of the business. For example, some did rentals but didn't have a parts inventory management module. Others had parts inventory management but no insight into the lifecycle of a machine. Most solutions, while being on the cloud had a pretty poor web layout and were difficult to use. In many of my demos, the others systems would freeze or return error messages. The HBS System construction dealer management software has been a pleasure to use and is very easy to train on. There was only one other system I considered which was an updated system from the company that was running our green screen. It would have been a very easy migration and would have seemed like the obvious move. When I got into the nuts and bolts of the system it was apparent they just threw a GUI interface over the old system. I would be back to where I started albeit with the ability to use a mouse. HBS Systems has afforded us the ability to focus on the business instead of being tied down to an archaic system. There is no question our processes have sped up and we now have real-time information on all aspects of our business. In addition, the employees love the HBS Systems construction dealer management software so that's a nice cherry on top.
What feature of the HBS Systems construction dealer management software is the most used?
Most used in the company would be the parts and service modules. The connectivity that HBS Systems offers with Bobcat has been a real win for my staff. We can not only see what the manufacturer has in stock but we also see our stock and stock location on Bobcats website. The ability to pull pick lists from Bobcat directly into customers' tickets is one of their favorite aspects of the construction dealer management software. On the service side, our billing has increased due to the ease of the service module. We used to avoid small warranty billing because the invoicing of that ticket was so time-consuming. Due to the ease at which you can have multiple segments on a work order, we are capturing every last dollar of warranty we can find. I personally sit inside the accounting and customer insight screen which has been great and very illuminative as to customers' balance and credit. I especially like the automatic credit rating the system generates per customer based on their payment history. Attaching files and notes to customers' accounts is also a great feature for items such as tax-exempt certificates. My salesmen and managers love the equipment file which is extremely robust and includes all aspects of the lifecycle of the machine on one screen. The fact they can look at work orders from the equipment file has been invaluable and I often look at the GL history within the equipment file to research its financial history.
How has HBS Systems NetView ECO software increased productivity?
The rental contracts take about 25% of the time they used to. We've also been able to reduce the accounting and month-end time to less than an hour. Because of connectivity with Bobcat and the ability to pull pick lists directly into a parts ticket, this has reduced the time it took to make a parts ticket by over 50%. The ability to upload stock orders directly into Bobcat is saving hours per week. In addition, due to the connectivity with Bobcat, we are no longer making mistakes transcribing numbers onto paper and then into our tickets. The many financial and information widgets you can select for your HBS Systems NetView ECO customizable dashboard, Active Desktop, give my partners and managers direct access to numbers without the burden of asking accounting for reports. The widgets operate in real time which allows us to pivot sales programs to meet our goals.
What have you been most impressed with in using HBS Systems construction dealer management software?
Ease of use, 100% uptime, connectivity to Bobcat, parts stock reordering system, and the award-winning HBS Systems support staff.
How have advancements in HBS Systems construction dealer management software been since you joined as a customer? The advancements I've seen in just the 1st year at HBS Systems are more than our previous provider did in a 30-year period. Customer support has been really responsive and helpful. I couldn't be more pleased with my choice to switch to HBS Systems.
To learn why more Bobcat equipment dealers trust HBS Systems construction dealer management software as a partner for the life of their business, contact our experienced team via email at sales@hbssystems.com, call 800-376-6376, and read what other customers say about working with us.