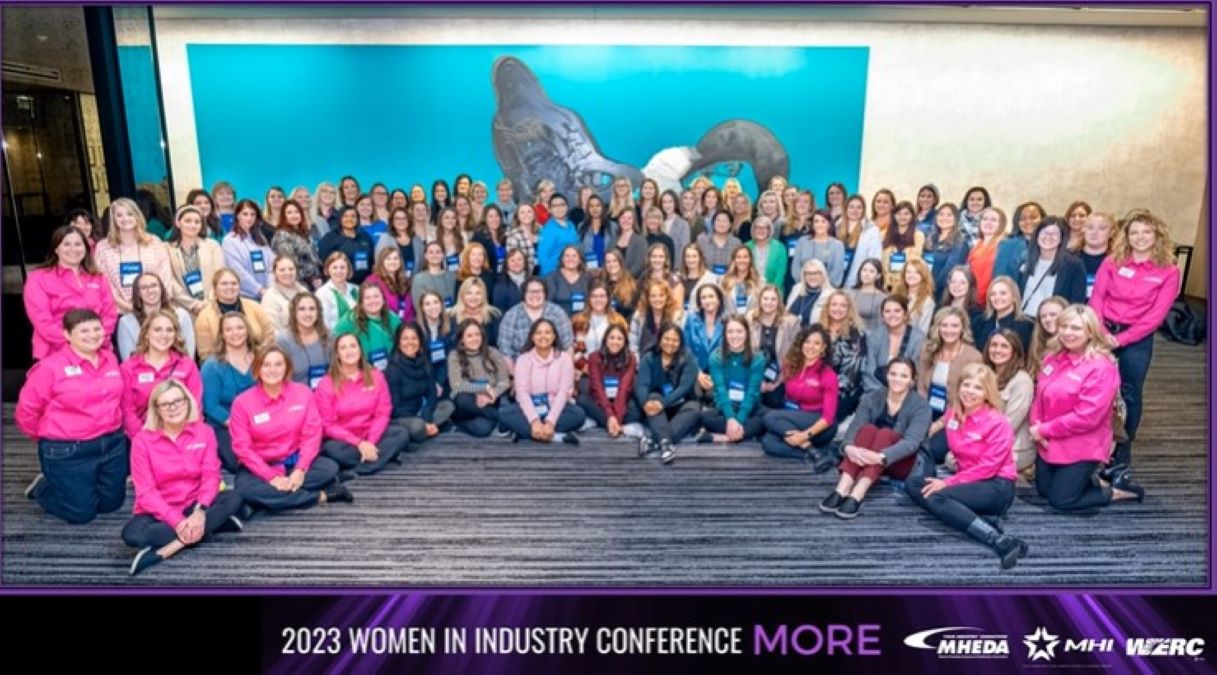 As a seasoned marketer, I've had the honor of experiencing inspiring, educational, and life-changing events.  My first time attending the "Women In Industry Conference" is at the top of my experiences.  From the moment I arrived, The Loews Chicago O'Hare hotel buzzed with electric energy as over 100 women, each a representative of various material handling companies from across the country, gathered for the 2023 Women in Industry Conference on November 2. Organized by MHEDA (Material Handling Equipment Distributors Association), MHI (Material Handling Industry), and WERC (Warehousing Education and Research Council), the conference aimed to empower and celebrate women in the material handling sector – and in my humble opinion, they over-delivered in achieving to deliver MORE.
2023 Women In Industry Conference for the Material Handling Industry
The day kicked off with an inspiring keynote address from a seasoned leader in the material handling industry. Her journey, marked by challenges and triumphs, resonated with the women in the room. As she spoke, the audience nodded in unison, drawing strength from the shared experiences of navigating a path less traveled.
Breakout sessions followed, covering a spectrum of topics ranging from the latest technological advancements in material handling to strategies for effective leadership in a dynamic industry. Each session provided valuable insights and practical tools for the attendees to implement in their respective roles.
During the networking breaks, the atmosphere was alive with conversations and connections. Women exchanged business cards, shared stories of triumphs and setbacks, and forged bonds that extended beyond the conference walls. The sense of camaraderie was palpable, as attendees realized they were not alone in their journey.
The lunch break was not just an opportunity to refuel physically but also a chance for the women to recharge emotionally. The air was filled with laughter and animated discussions as the attendees enjoyed a meal together, forming new friendships and strengthening existing ones.
The 2023 Women in Industry Conference had not only provided a platform for learning and professional development but had also created a community of empowered women in the material handling sector. As the attendees dispersed, heading back to their respective corners of the country, they carried with them the lessons learned, connections made, and the collective strength of a network of women determined to make a lasting impact in the industry. The Loews Chicago O'Hare hotel, for that one day, had been a hub of inspiration, empowerment, and the forging of paths yet to be traveled. Coming into the conference, I had only known members of the MHEDA team; however, I left with more connections than I could have imagined possible within a 24-hour period. I'll definitely be back in 2024 and plan to bring more women from HBS Systems with me!