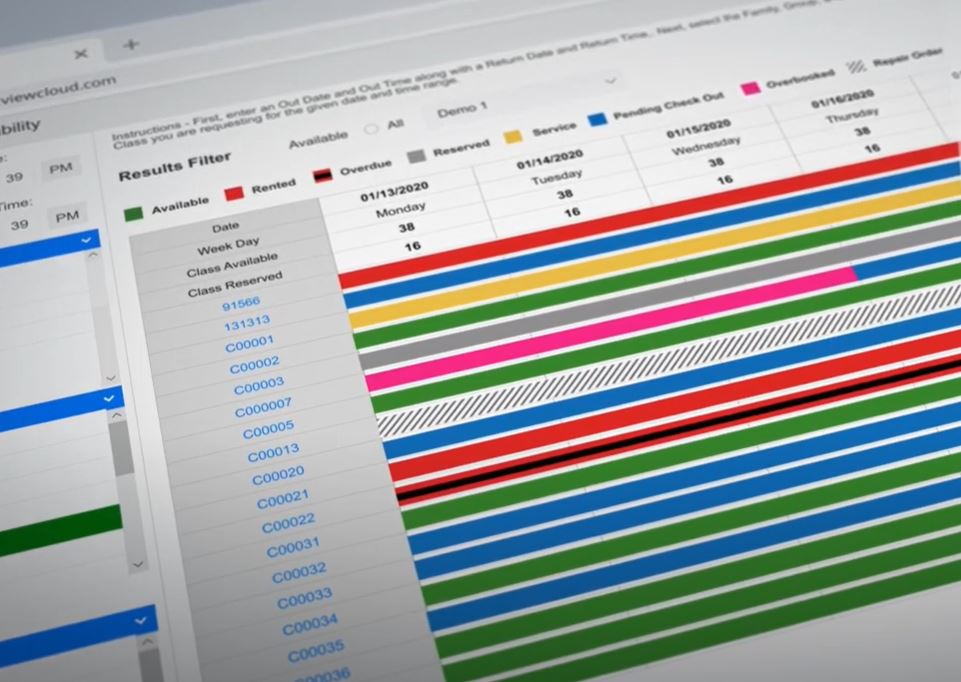 The primary purpose of any technology is to simplify a process to make it more intuitive and efficient, and to create a more productive workforce and profitable organization. Regarding equipment rental software, within a dealership, the aim is to efficiently utilize available resources while ensuring that each aspect of the business is covered, from training and customer support to productivity and financial management.
When looking inside a robust dealer management system, it should include equipment rental software because renting will always be a popular option for companies needing equipment. Rather than having specialized equipment on hand and absorbing that cost, many companies rent when performing a job that cannot be performed with available equipment. Construction equipment rentals have been on an upward trend in the past few years and will continue as the American Rental Association (ARA) expects "equipment rental revenue to exceed $47.8 billion in 2021, nearly a 3.5 percent increase over 2020 and greater than last quarter's forecast that called for a 3.1 percent increase this year." This increase will be followed by another 9.68% in 2022, passing the industry's previous peak in 2019.
The purpose of equipment rental software is to help manage the fleet of equipment that an organization owns. This software can benefit an organization beyond knowing what is available and where the rental is located. Strong equipment rental software will allow an organization to do the following and reap the benefits.
Optimize fleet utilization:
This is the bread and butter of any equipment rental software option. The longer uptime each asset of an organization has, the better it will be for the bottom line. Owning this expensive equipment and maintaining it to make it available for those who need it, and knowing where each asset you own is, improves customer service and customer satisfaction, which creates return customers.
Check availability by equipment type and subtype:
The truth of any equipment rental business that maintains an inventory is that you live and die by that inventory. Viewing specific equipment types quickly, no matter the specifications is essential to any rental business. You need to know what is on the lot without looking for it. HBS Systems NetView ECO equipment rental software is web-based and allows you to access your available inventory anywhere on any device.
Customize rental rates:
When an organization has loyal customers, they may want to give them a preferred rate for their loyalty. Having the ability to select different rental rates for each customer increases customer satisfaction and builds to strengthen that relationship.
Set up reservations:
Before taking a job, many customers renting equipment will plan ahead. Planning is good practice, and knowing that a company will work with them on that plan will win them over. This is essential for any business that is renting anything. Ensuring customers that you can meet their needs will keep them happy.
Add or return items as needed:
As with most projects, things often do not go according to that plan, and changes occur. In most cases, new information or changes in a job will force an adjustment. Understanding this, equipment rental software has a solution by adding, returning, or exchanging equipment.
Sub-Rental:
Sub-rental (sometimes referred to as re-rental) is the practice of fulfilling your customer's rental needs by acquiring rental equipment from another company. You can add this sub-rental equipment quickly to your rental contracts by providing the vendor, model number information, serial number, and other important information to produce on the rental contract while adjusting rates as needed to ensure profitability.  This helps expand your inventory without investing in additional equipment, increases flexibility to meet customer demands, and enhances customer satisfaction and loyalty by continually meeting their needs.
Reporting:
Though listed last, reporting is an incredibly important aspect of equipment rental software that allows users to see and measure the strength of different equipment in an organization's fleet. From a pure data perspective, a dealership can see what they should focus on. This way, an organization can make data-driven decisions that will only strengthen them.
The benefit of all of these features, overall, is an increase in productivity and profitability. The difference between good equipment rental software and the best equipment rental software is the depth and usability of its features. HBS Systems goes beyond the basic equipment rental software features with a host of additional features that can be used anywhere on mobile devices in one easy-to-use system.
To learn more about how HBS Systems can Advance Your Dealership, give our team a call at 800-376-6376 or email sales@hbssystems.com.