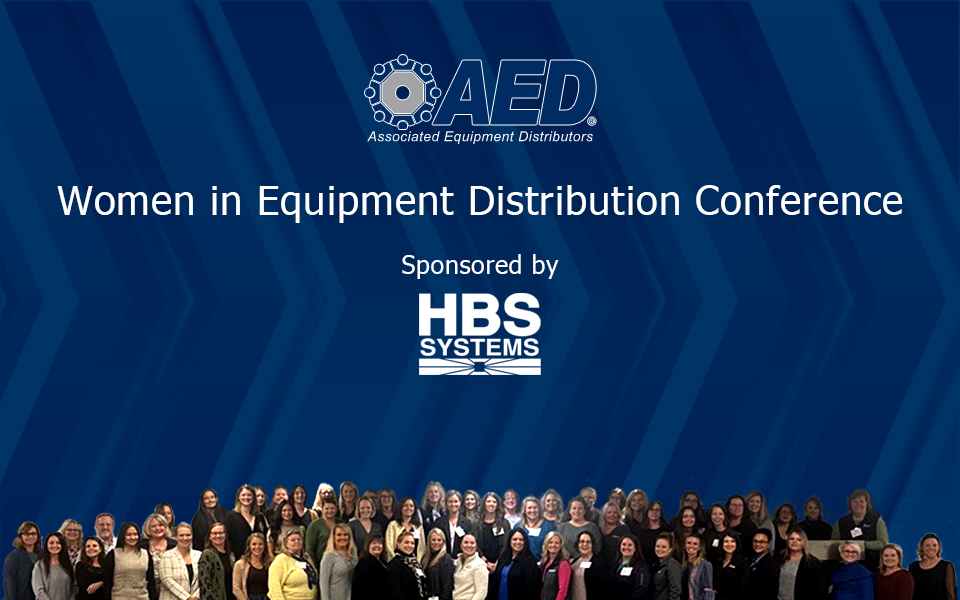 Regardless of the industry, ensuring you have the right people on your team is critical to your success. While the equipment dealership industry has historically been dominated by men, more and more women can be found within the industry in various positions. HBS Systems had the honor of sponsoring the AED Women in Equipment Distribution Conference this year. Our Marketing Manager, Lisa Bennett, had the pleasure of networking, learning, and setting goals with more than 70 brilliant and accomplished women alongside several equally talented men who attended the conference. We asked about their experiences in the industry, their insights into industry trends in technology, and their advice for other women navigating their careers in the equipment dealership industry.  Their insights, wisdom, and advice are definitely worth your time to read.  While we asked specifically about women in the industry, this applies to men as well.
What advice would you give to a woman looking to make an impact on the equipment dealership industry?
Erin Leppo Palmer, CFO & In-House Legal Counsel, Leppo Group, Inc is passionate about representation in our industry. She shared, "I'm fortunate to be part of the fourth generation of owners at Leppo Group Inc. We've had a strong female presence in each generation.  My great-grandmother was instrumental in the day-to-day operations when Leppo first started.  The running joke was that great-grandpa ran the farm and great-grandma ran the business.  My grandmother ran much of the back office and my aunt was heavily involved in customer-facing operations for several years as well.  I had the privilege of becoming the first woman on our Leadership Team in 2016. I'm extremely proud that women make up three of eight members of our current Leadership Team.  We have strong women throughout our operations from branch managers, and counter managers, to back-office employees and that number continues to grow.  I'm a firm believer that customers want to see someone like them when they are evaluating a vendor.  Women make up an increasing part of our industry's customers now, so we have to have representation in our stores in order to be able to best serve them. " 
Charla Mayhew, Marketing and Communications Director, Southeastern Equipment Co., Inc, was quick to share facts she found in a recent BISNOW article. "The construction industry isn't a man's world anymore. 14% of the workforce is now made of women — there's still room for improvement, but that's a percentage that can't be ignored. At Southeastern Equipment Co., Inc we have successful women in every single department – sales, parts, service, operations, marketing, accounting, and others."
Stephanie Sczpanski, President of Operations, Leppo Rents, Southeast, stated: "As a woman, we have to believe that we can be successful.  We need to be confident, raise our hand when an opportunity arises, and find people that want to support our success.   Supporting your success includes giving you honest and genuine feedback so you know what you need to work on. Leadership means balancing results, accountability, and compassion.   Be confident in not only achieving results but also that we can balance that with being compassionate."
Joleen Schauer, Parts Manager, Murphy Tractor & Equipment Co, Inc. has had the privilege of serving as a Parts Manager for 28 years before taking on her current role as Branch Manager. She encouraged everyone by stating, "First – You need to know the technical details of the machinery you are working with whether you are in parts, service, sales, accounting, or marketing. It will immediately set that stage that you know as much as anyone within the dealership and that you are the expert the customer is looking for to help them with their equipment. Second  -We talk about keeping our emotions in check, and to a degree, we need to do so; however, with emotions comes passion and you should never hide your passion. As women, we have a passionate nature. Be passionate about what you are doing and let that passion be your driving force to influence the industry."
Mary Pardon, Director of Training and Technical Support, Alta Equipment Company shared, "A woman that takes care of her inner self will be successful and will positively impact the world around her."
Karen O'Connor,  VP of User Experience, HBS Systems started her more than 40 year journey in the equipment industry in a clerical role at a truck and equipment dealership working her way through the service, sales, rental, parts inventory and accounting departments prior to serving in her current role at HBS Systems.  She shared, "As with anything in life, be strong, be understanding and be confident. Be willing to start at the bottom and work your way up. Challenge yourself and don't settle."
How important is it to mentor other women in the industry?
Diane Benck, Owner, and VP of General Operations at West Side Tractor Sales Co has been instrumental in blazing a trail for women in the industry serving as the first female chair in 100 years of AED. As she introduced Rena Cook prior to leading us in a powerful workshop called "Empowering Women's Voices", Diane shared the following wisdom: "Each one of us has the opportunity to empower others and experience growth in this industry. Whether you find a man or woman mentor, seek one or more out to help you with that growth and ensure you return the favor as you serve as a mentor yourself."
Charla Mayhew, Marketing and Communications Director, Southeastern Equipment Co., Inc stated, "Mentorship is huge. Women need allies in the workplace that help them build their skills, network, and support their advancement. I personally was not given a mentor, but there are a lot of great resources out there for self-development." If that's not enough evidence of Charla's passion to empower women in the industry, she also suggested that women continue to learn by reading three books she's found to be extremely helpful in her continued development – "How women rise", Women and Leadership and Women and Leadership HBR.
Rosemary Rodarte, Service Manager at RDO Equipment shared, "It's so important that we approach each conversation with an open heart and mind. Too often we are so guarded and jaded by the way the world can be that sometimes we forget the other side of the coin – all the beauty that the world and the people in it hold. Think of the value you can bring by mentoring another person."
What impact have you experienced as you adopt new technologies?
Lisa Bennett, Marketing Manager, HBS Systems shared, "It's fascinating to me that with advanced telematics we can connect to equipment to proactively schedule maintenance, improve dealership productivity and reduce machine downtime on the job site. Monitoring machine health and location seemed to be something far away in the future but it's here and dealers are using it every day to maximize profitability. Similar to tracking your Uber arrival, you can track the locations of machines and receive alerts about machine issues or potential problems. Dealers can proactively order parts or send a service technician right to the customer's location. I'm looking forward to seeing what our award-winning team brings next to the industry!"
Stefanie Miller, Government Account Manager, RDO Equipment Co, Southwest shared her experience, "I have experienced a new way of selling; customers are more willing to communicate through email and it seems harder to reach them over the phone or in person. As a collective, we have become engaged in different ways and it makes it that much more valuable when I am able to get in front of a customer."
How has technology impacted your position?
Karen O'Connor, VP of User Experience, HBS Systems stated, "After more than 40 years in the industry on the dealership side as well as serving customers with our web-based software, it's great to see more dealers stepping out of their comfort zone and expanding into additional technology offerings to better serve their customers. HBS Systems is proud to lead the industry in innovation with powerful features in our NetView ECO dealer management software that enable your customers to take care of business right from their smartphone. Make payments, order parts, book service appointments, make rental requests, and diagnose and prevent equipment breakdowns before they happen. Keep track of maintenance schedules. Give your customers peace of mind with service arrival tracking. Optimize the management of your rental inventory. Drive more sales by reaching your audience with push notifications. Monitor and process all of your sales from multiple channels with our NetView ECOM e-commerce solution that's built right into HBS Systems software and more. It's an exciting time to be part of the team at HBS Systems."
Stefanie Miller, Government Account Manager, RDO Equipment Co, Southwest., shared, "Technology has allowed us to stay connected and work productively and efficiently remotely. From machine monitoring to online ordering we are able to get our customers the services they want and need with seemingly less interruption to their day."
If you missed attending this year's event that included exceptional speakers, Cassi Chandler, Leadership Expert and the FBI's first African American Female Special Agent Assistant Director, Goal Setting with Motivational Speaker and Trainer Lisa Demmi, Showing Your Worth with Leadership Skills Speaker, Courtney Ramsey and an Industry Panel Discussion with Tara Stryker, VP Strategic Accounts, Ritchie Bros, Stephanie Sczpanski, President of Operations, Leppo Rents, Southeast and Katie Murphy, Manager of Operations, RB Scott Company, Inc., don't be left out for next year's event. Even if you only plan to attend for the small-group dinner breakouts which took place at restaurants like Carmines Chicago, Truluck's, Gibson's Bar & Steakhouse, Carlucci Rosemont, it's worth it for the story swapping, bonding with other like-minded women, and the valuable relationships you'll build in the industry.
As a proud supporter of AED and their member dealers worldwide, our HBS Systems team will be there and plan on bringing more women from our team to next year's conference.  If you'd like to learn more about how HBS Systems can Advance Your Dealership, give our team a call at 800-376-6376 or send an email to sales@hbssystems.com. To learn more about AED and the benefits of AED membership, visit https://www.aednet.org/grow.