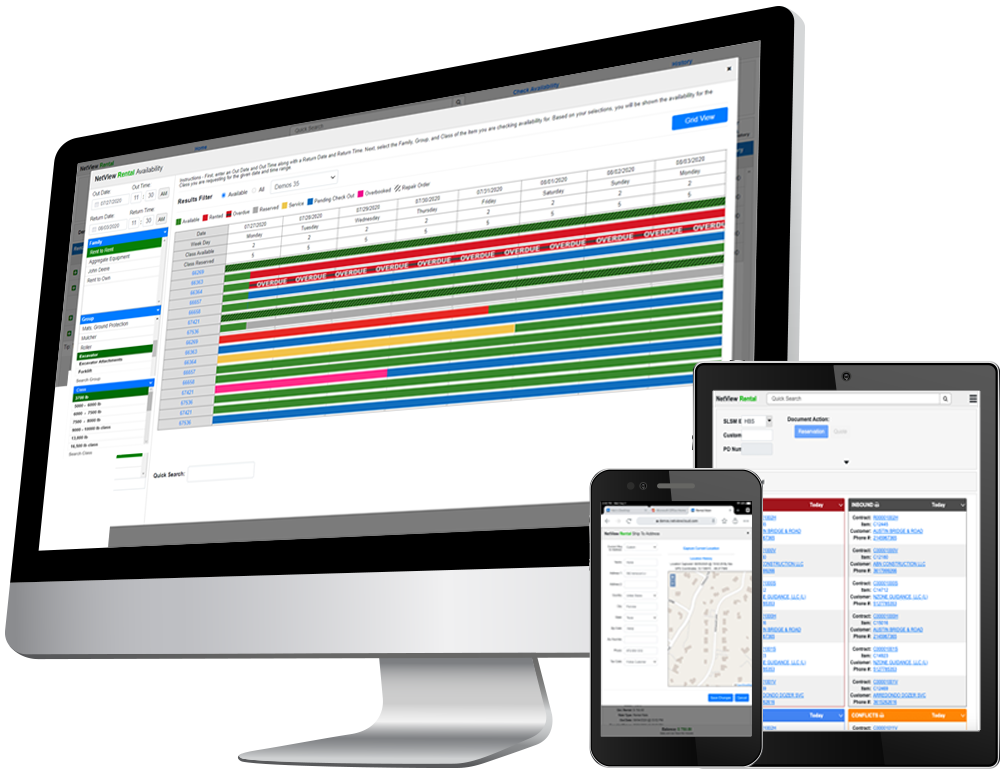 The most recent industry reports suggest that 60% of all heavy equipment will go through the rental channel before purchasing. Rental Equipment Software provides the functionality to streamline rental operations and improve profitability. HBS Systems rental equipment software enables dealerships to plan, operate, monitor, and improve rental operations, to increase profitability, enhance customer service and increase customer loyalty. The rental department is seamlessly integrated with the rest of the dealership, reducing equipment downtime, streamlining operations, and ultimately increasing your rental department's profitability. There are many notable benefits of renting construction equipment.
With rental equipment software, equipment dealers have full visibility into their entire rental department. Personalized operational and executive dashboards bring detailed insight into high-level KPIs and day-to-day tasks. Operational dashboards improve productivity and eliminate time-consuming searches by consolidating job-critical information. For example, a rental manager would see tasks that require immediate attention, such as "rental contracts to be returned," "contracts overdue," and more when they log in each day. Rental equipment software provides advanced analytics and reporting, allowing organizations to make crucial business decisions and shed light on potential business opportunities such as opening new branches based on rental sales in given geographic areas.
In the ever-changing equipment rental industry, many dealers have developed counterproductive processes based on the outdated technology they have been using for years. With HBS Systems NetView ECO Rental Equipment Software, equipment distribution and rental companies move from a reactive to a proactive mode of engagement, streamlining every aspect of the rental department with features like rental fleet management, equipment configuration management, and telematics with top OEMs.
Benefits Include:
HBS Systems helps dealerships get the most out of their rental fleet. Dealerships can plan and operate their rental operations more efficiently at every stage, from quoting through invoicing and collection. Maximizing utilization in the rental industry; rental equipment software tracks key metrics such as time utilization and finance utilization to get the most out of every piece of equipment in your rental fleet. Equipment dealers can access reports on ROI on machines and more. Leadership is empowered to analyze and make strategic data-based decisions on utilization, ensuring the rental department maximizes profitability when renting and selling equipment.
Developed with industry-specific features and flexibility to handle the unique needs of the equipment rental business, HBS Systems rental equipment software supports multi-location rental operations, optimizing utilization across branches. It provides flexible pricing and price simulation options to support advanced pricing schemes with multiple prices and discount variables. HBS Systems rental equipment software can also handle contract types of all kinds, including rent to rent and rent to sell, ensuring your rental team can handle any situation that arises to keep your customers satisfied.
Built with hundreds of the industry's best practices, NetView ECO streamlines processes in the rental department to provide the industry with a solution that increases efficiency at every level of operations. Dealerships have greater control over their rental department with powerful features that include: setting up alerts, assigning tasks, and tracking rental status and fleet availability. Complete visibility, greater control, and the industry's best rental analytics empower equipment dealerships and equipment rental companies to make data-driven decisions.
Equipment Booking and Reservation
Exceeding customers' expectations and providing service at the speed of rental is the goal. NetView ECO rental equipment software empowers organizations to accomplish this goal and increase profits. Profitable equipment rental management requires more than just equipment scheduling software; companies also need to be able to track multiple meter readings. This proves to be essential in ensuring customers are charged the appropriate rate for the equipment in the case of over-usage. Visibility of effective and expiration dates for rental rates makes the equipment booking and reservation process more efficient by cutting transaction time and improving customer satisfaction. Customers no longer experience miscommunication or confusion in reserving equipment as they can reserve, order, and receive the exact equipment that meets their needs.
Equipment Tracking and Availability / Inventory Management
HBS Systems rental equipment software equips dealerships with robust tracking and inventory management tools. Equipment rental dealership departments have visibility of every piece of equipment within the software through GPS tracking. Organizations gain a competitive advantage as real-time KPIs integrated with GPS mapping allow executives to make strategic decisions based on equipment usage, travel time and distance, freight cost, and more.
When looking for the necessary equipment and machines, customers benefit from rental availability searches. Rental availability search filters and searches by category, model, branch office, location, and even different versions or options of specific models. Therefore, customers who may need a machine with a specific part can search by attachment, ensuring every possible customer need is fully met. Customers also can search for alternative equipment in cases where certain machines may not be available. All equipment details are visible within the rental equipment software, including the history of the equipment, when it arrived, and who has rented it over time. Rental equipment software provides the "Life Cycle Cost," detailing every financial activity of a machine. This includes profitability, rental revenue, service orders, original acquisition cost, insurance associated with the machine, loan interest, warranty reserves, and more. Even further, for equipment that has been customized or configured in a specific way, HBS Systems rental equipment software keeps track of "Configuration Life Cycle Cost," calculating the changing value of a machine with different attachments and configurations. HBS Systems powerful features includes the NetView DealerNow app that allows customers to pay invoices 24/7 online to maximize customer satisfaction.
Fleet Management and Scheduling
With NetView ECO rental equipment software, dealerships maximize their rental fleet's availability, performance, and utilization. During the cycle of equipment being returned, maintained, inspected, and sent out again, HBS Systems rental equipment software helps automate processes and streamline operations. Turnaround time is significantly lowered. Appropriate parties are notified in real-time when equipment returns to the lot, allowing the unit to be inspected, the work order to be generated and completed, and the unit to be rented out most efficiently.
Integrated Accounting
Traditionally, dealerships have used spreadsheets or sometimes paper to run the accounting processes of an organization. HBS Systems rental equipment software drastically improves this process as organizations can implement paperless quotes, orders, and invoices. Easy quoting, invoicing, and document management deliver efficient administration of the rental process. Rental managers are also equipped to create quotes and contracts through rental dashboards, utilizing all-inclusive proposals of equipment, attachments, warranty, services, and trade-ins. The NetView ECO rental equipment software provides flexibility for rental invoicing with auto-calculating invoice amounts, considering off-rent periods, and other common financial occurrences in the rental department. Overall, streamlined accounting processes integrated with the rental equipment software provide organizations with the control and visibility of finances to take greater control over their rental departments.
Integrated CRM
CRM capabilities are fully integrated into the rental equipment software. This equips your sales department with the tools they need to improve customer relations and close more deals. The sales team can take a focused and guided approach to customers by tracking all sales activity, customer information, and customer interaction history. With comprehensive management information, complete tracking of meetings, offers, and interactions, and full visibility of inventory and details (specifications, configurations, images, pricing, attachments, options, credit, and more), dealerships can be confident that their sales team is empowered to effectively close deals and serve customers and keep moving at the speed of rental.
Reporting and Analytics
Successful organizations cannot make data-driven decisions without access to information in real-time; HBS Systems rental equipment software provides real-time reporting and analytics to help organizations evaluate key rental department metrics. NetView ECO rental equipment software provides abundant data broken down by equipment type, OEM, model, and even individual serial number. Companies are given visibility into data, drilled down to the individual machine level, enabling executives to analyze which machines are most and least utilized. As a result, leadership can make strategic and calculated decisions such as discounts on low-utilization items and increasing prices on high-utilization items.
Proven Success
HBS Systems has assisted equipment dealerships throughout North America to streamline rental operations and improve profitability. With fully integrated rental equipment software, all dealership departments should see productivity, performance, and profitability improvement. Dealerships and rental companies, like Badger Contractors and Rental, trust HBS Systems to provide advanced productivity tools to transform the way businesses run their rental departments. Every component and process of the rental department is streamlined and easily tracked, helping you maximize ROI from your rental fleet.
HBS Systems is committed to empowering the equipment rental industry with innovative rental equipment software that works with the flow of your business while providing award-winning training and customer support. To learn more, call our HBS Systems team at 800-376-6376 or email sales@hbssystems.com.