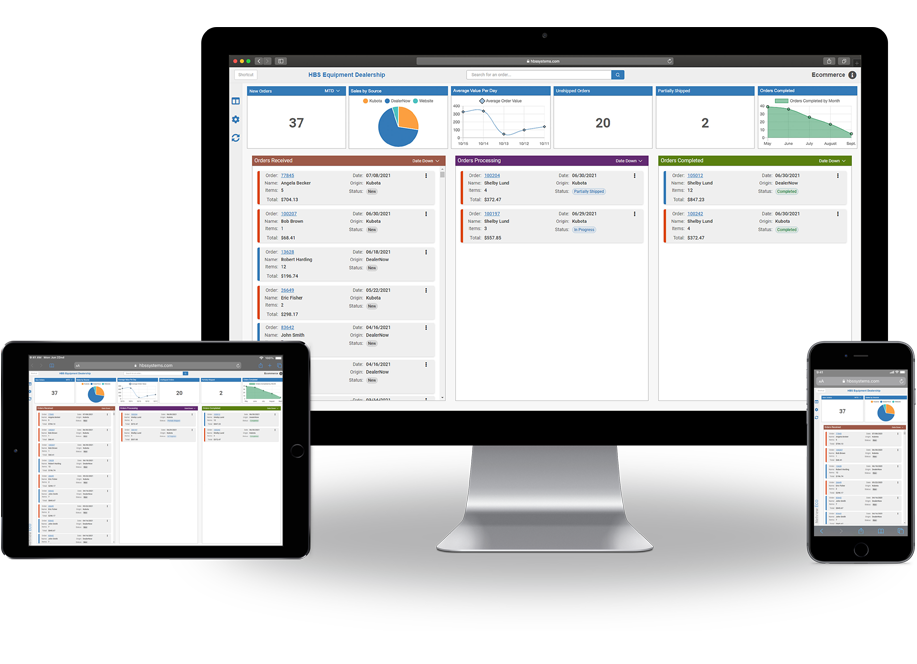 Adopting equipment dealership e-commerce at the dealership has been a hot topic in the industry for a few years now. A recent Forbes article projects global e-commerce sales to hit $4.2 trillion as the online surge continues. The recent pandemic has increased the rush to turn talk into action. As the pandemic unfolded throughout 2020, e-commerce sales accounted for 18% of global retail revenue. Experts believe that number will soar to 21% by 2024.
Carvana has already proven that there is an online marketplace for passenger vehicles. Local dealerships offering commercial sales and equipment rentals can also benefit from equipment dealership e-commerce platforms. Vehicles, equipment, and parts can all be included online.
Yet, many dealerships across the nation are still hesitant to embrace equipment dealership e-commerce. This is mainly because most aren't sure if it's practical or how they can implement it. It also means that dealerships partnering with a trusted equipment dealership e-commerce platform can easily set themselves apart from the competition.
Due to the growing demand for equipment dealership e-commerce and the changing expectations of consumers and businesses, HBS Systems expanded its dealership management system with NetView ECOM, an equipment dealership e-commerce platform integrated with major OEMs. To understand how your dealership can benefit, keep reading.
No-Contact Transactions
We saw another trend emerge from the pandemic: contactless transactions. According to Forbes, consumers overwhelmingly prefer curbside pickup and contactless delivery. Even as COVID-19 restrictions ease, many consumers and businesses have found that they enjoy contactless transactions. According to a Medallia Zingle survey, 87% of consumers expect businesses to continue offering options that limit in-person visits.
With no-contact transactions becoming customers' latest expectations, dealerships only stand to gain by partnering with a dealership equipment e-commerce solution like HBS Systems NetView ECOM. Of course, contactless arrangements aren't possible for every transaction, which is why we provide dealers with options to easily customize the experience for their customers.
Customer Loyalty Through a Seamless Online Experience
While commercial dealerships have been hesitant to embrace e-commerce, nearly every other industry has been doing it for decades. This means they have had time to improve and perfect the customer experience, so customers have high expectations for online retail.
Dealer management systems help dealerships provide this experience with ease. For example, our NetView ECOM provides familiar tools like online catalogs, carts, and checkout pages. It uses industry-leading interface elements yet integrates seamlessly into your existing operations.
Easier Customer and Business Management
Of course, that enhanced experience doesn't stop with the customer. Dealerships will enjoy the ability to manage customer orders, inquiries, and concerns from a central place.
If your dealership offers rental equipment, you can track rentals and inventory with a dealer system in real-time. You can monitor repair status and dispatch technicians as needed – all from one place.
Different tools, dashboards, and documents can be assigned according to roles within the organization. For example, financial management tools and reports can be available exclusively to the accounting and executive teams. Customer inquiries can be assigned to support agents and salespeople.
Smoother Supplier Relations
COVID-19 and the following restrictions have placed strains on the supply chain that continue to this day. Everyone's struggling to keep up, and effective communication has taken a hit.
Dealer management software tracks your inventory, sales, and rentals in one location. With a quick glance, you can garner your dealership's current assets and determine what it needs to meet customers' needs better. You can then share this information with suppliers and manufacturers to facilitate smoother communication and workflows.
With You On The Go
These days, customers expect immediacy. Dealership management software uses smartphone apps to manage the entire customer experience from anywhere, anytime. You can easily access crucial dashboards and offer immediate responses to customer inquiries. It's all controlled and updated in the cloud.
Of course, you can access the same information and dashboards from a tablet or desktop. Data is updated in real-time and shared with all devices.
Learn More
By meeting your customers' expectations and adapting as they change, your dealership can easily set itself apart from others and build customer loyalty that lasts. This is what NetView ECOM, equipment dealership e-commerce does, and it's only one of the many tools included in our dealership management software. To learn more about how it can increase sales for your dealership, contact our experienced team at sales@hbssystems.com, 800-376-6376, or view information about our powerful features at hbssystems.com.